OPERA tunes into first-ever tau neutrinos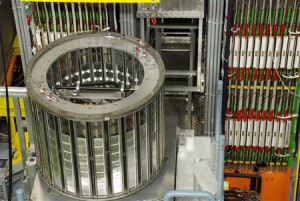 The OPERA experiment in the underground Gran Sasso Laboratory in Italy has likely seen the first tau neutrino, making it the first time that a neutrino type may have been seen "appearing" rather than "disappearing".
Before we dig further into this strange statement and why it's important, here's a bit of background on neutrino appearances and disappearances. Neutrinos come in three flavours: electron, muon and tau. During the 1960s, neutrino detectors showed that there was a deficit of neutrinos coming from the sun. This came to be called the mystery of the missing solar neutrinos. Eventually, physicists figured out that the neutrinos were morphing from one type to another on their journey from the sun to the Earth. So if a detector was sensitive to only one type of neutrino, then it would see less of that type than was being emitted by the sun, since that particular neutrino type had changed into another type along the way, and hence could not be seen by the detector. This phenomenon is called neutrino oscillation.
This "disappearance" of a neutrino type has been detected by various detectors worldwide.
But how about detecting the reverse process? Say a neutrino source is spewing out muon neutrinos, and some of them are changing to tau neutrinos on their way to the detector. How about detecting the "appearance" of the neutrino which was not produced at the source?
That's exactly what OPERA has done. A neutrino source at the CERN Accelerator Complex has been generating muon neutrinos. These neutrinos travel 730 kilometres to the OPERA detector (in about 2.4 milliseconds). Now, OPERA has most likely found one tau neutrino from among the many billions of muon neutrinos produced at CERN. This tau neutrino "appeared"—it is of course equivalent to a muon neutrino disappearing. But still, it's a first.
Why is all this important? It turns out that neutrino oscillations require neutrinos to have mass, something which is not allowed in the standard model of particle physics. New physics is required to explain the process, and the more we study neutrino oscillations, the clearer the new physics will become.
Hitoshi Murayama, a theoretical physicist at the University of California, Berkeley, wrote about the announcement of the discovery of neutrino oscillations in Japan in 1998 (quoted in The Edge of Physics): "It was a moving moment. Uncharacteristically for a physics conference, people gave the speaker a standing ovation. I stood up too. Having survived every experimental challenge since the late 1970s, the Standard Model had finally fallen. The results showed that at the very least the theory is incomplete."