Mystery quasar alignment due to cosmic strings?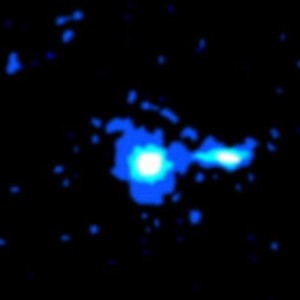 A mysterious alignment of quasars in the distant universe, found in a survey by Damien Hutsemeker of the University of Liege, Belgium, and his colleagues, has confounded cosmologists.
Why should the quasars, which should have random orientations in space, show such an alignment.
A New Scientist article argues that cosmic strings (which are kinks in spacetime, not the strings of string theory) that formed in the early universe could be responsible.
The quasars have also been liked to the "Axis of Evil" – another seemingly non-random alignment of cold and hot spots in the cosmic microwave background.
Regardless of what the explanation is, this is a great example of the convergence of astronomy, cosmology and particle physics (in this case, the cosmic strings invoked in the above article are predicted by the standard model of particle physics).